Become a Personal Trainer in Pennsylvania
If you're looking at how to become a certified personal trainer in the fitness industry, our personal trainer certification program in PA is perfect for you.
You've probably heard that the best way to get fit is through working with a personal trainer. But what if you could learn how to become one yourself? The National Personal Training Institute in Pennsylvania offers a diploma program that will teach you everything you need to know about fitness and a healthy lifestyle.
Top Personal Training Program in PA
The National Personal Training Institute is a school that can help you get started on your path of how to become a certified personal trainer in PA. We offer hands-on training and real-world experience, so you're ready to work when it comes time for your certification exam. You'll learn from our experienced instructors who have been in the field for several years, and we guarantee that once you graduate, you will receive a personal trainer certification and we will find you a job as a personal trainer or fitness instructor.
Our personal training program includes everything from business for the fitness professional to nutrition education, so no matter what area of health and wellness interests you most, we have something for everyone in PA. You'll learn how to design safe, effective workouts, motivate clients, and teach them how to eat nutritiously so they can achieve their goals faster than ever before.
Why choose The National Personal Training Institute?
We are the oldest and largest personal training school in North America. You will be recognized across the world and not localized like other colleges. 
We believe that you can not be a personal trainer without hands-on training.
NationalPTI Diploma is better than a standard personal trainer certification. Graduates receive a licensed diploma that is good for life. No continual CEU upkeep. 
Employers actively seek and hire graduates due to the credibility of the program. 
Interactive learning with live teacher instruction and interaction with other students.
Best course in the country and the only course where you will get in the best shape of your life.
The best way to make this your career is to go to an actual school where you have the best trainers mentoring you. 
6 Months of hands-on training every class day. 
Classes start every 6 weeks.
High demand for trainers and lifetime job placement assistance. 
500 Hour Personal Training Diploma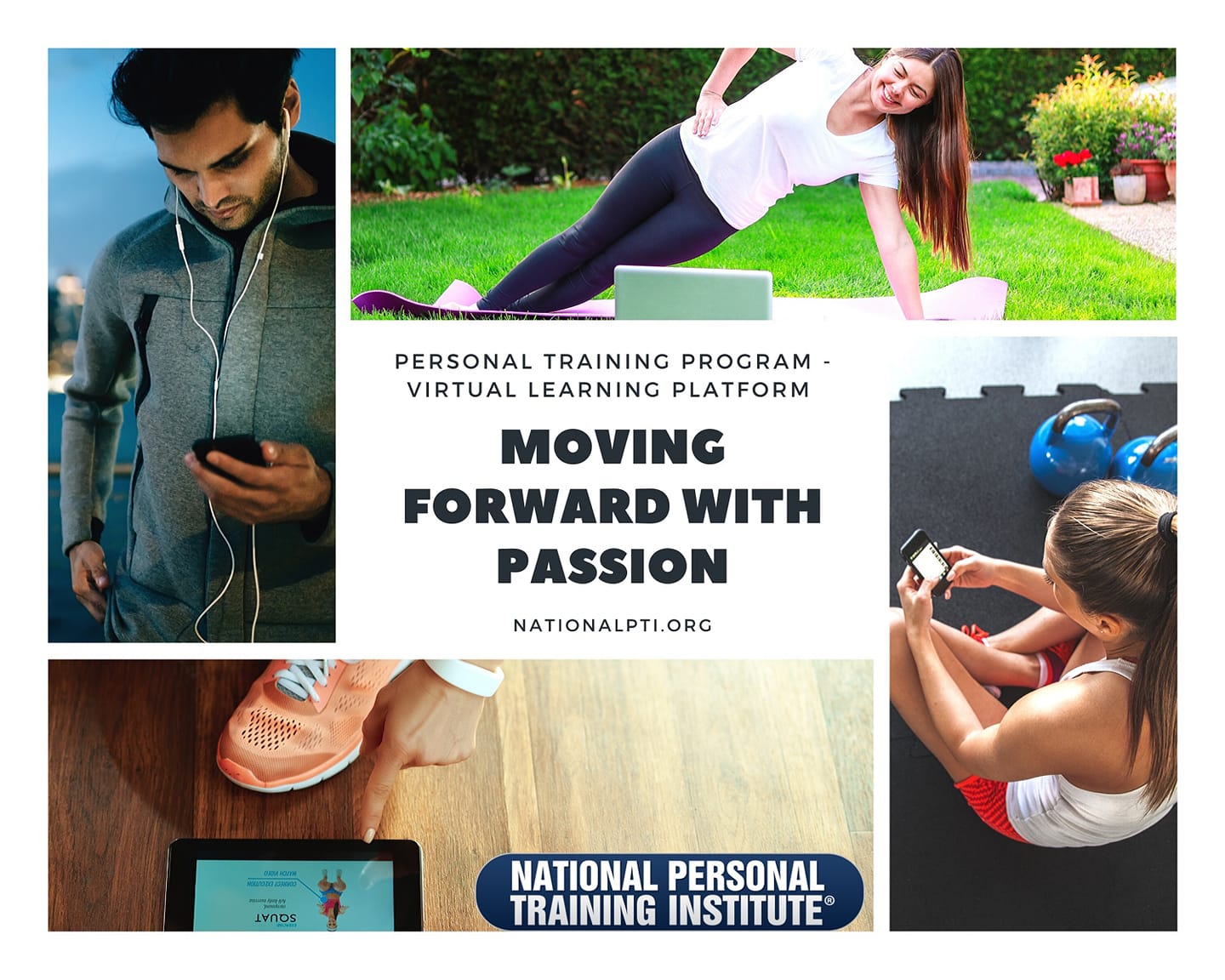 The NPTI Personal Training Certification Program is a 500-hour virtual course geared for the ambitious student that seeks to make an impact in their own life, and the lives of others.
Kick-Start Your Career at NationalPTI
We're dedicated to helping people like you kick-start their careers as professional trainers by providing world-class education and job placement support. Our graduates are highly sought after by employers across the nation.
You can get started today on your journey with NationalPTI. You don't need any prior experience or special skills to become a trainer with our personal trainer certification program. Here at our personal training school, we make it easy for anyone who wants to change their life through fitness. We offer flexible schedules so you can train around your life while earning valuable certifications that will help you land a great job. It doesn't matter what kind of shape you're currently in, this program will teach you all of the tools and techniques needed to be successful as a personal trainer. With our affordable tuition rates, we make it possible for anyone to attend our classes and begin working toward their dream of becoming a personal trainer or other type of health coach.
When Can You Enroll in Our Program?
July, August, October, November, January, February, April, May
Our personal training school is dedicated to helping students learn how to become certified personal trainers. Our well-rounded personal trainers help others achieve their goals and dreams. Our program in Pennsylvania prepares students for success in this rewarding field. We are currently accepting enrollments for the above months.
We also have a personal training school in Philadelphia, and offer personal trainer certification in NJ. For those living in Ohio, personal trainer certification in Ohio is available.
What Are the Benefits of Taking NationalPTI Courses?
People who have taken our courses have reaped the benefits listed below:
Unlimited Earnings Possibilities:

Whether you offer private training, boot camps, or aerobics classes, you have complete control over your earnings.

Make a Positive Impact on People's Lives:

By helping people get in shape, you can change lives for the better.

Learn About Nutrition:

You can assist your clients in achieving optimal health and well-being by learning about proper nutrition.

Refine Your Teaching Skills:

You will learn from our personal training school how to present material in a clear, motivating manner that keeps students engaged and ensures that they get the results they want.
Why Choose Us?
NationalPTI is a leader in the fitness industry. We are known for offering high-quality education and job-placement support that helps graduates achieve the type of lifestyle they want. 
If this sounds like an opportunity for you, we're here to help. Call us at 800-960-6294 and we will be happy to answer any questions you may have.

Online Personal Training Continuing Education (CEUs) that allow freedom of online, self-paced learning with interactive videos to enhance your learning experience.
Learn more here.

Tina Manacchio: Academic Advisor
Pennsylvania

Locations in , PA
Currently updating schedules. Check back soon!