GI BILL® EDUCATION
Qualifying veterans may use the GI Bill for any of our courses. Classes are considered full time. Click here for instructions on applying, or call now (619) 840-3322‬ for more information or to enroll.
"GI Bill®" is a registered trademark of the U.S. Department of Veterans Affairs (VA). More information about education benefits offered by VA is available at the official U.S. government website at www.benefits.va.gov/gibill."
WE ARE ENROLLING NOW!
National Personal Training Institute of Southern California  now also offers instruction ONLINE due to the Covid-19 situation. This is good news, in this difficult time, especially for our Veterans as their Housing allowance and benefits remain uninterrupted. Many of our students and potential students will now be able to attend class online while they stay at home to take care of themselves and their family members. We also have in-person classes, (you choose!) contact us today to find out what works best for you. Call 619-840-3322 now to reserve your seat. Click here to find out more about using your Veterans Benefits.

ABOUT US
Welcome to The National Personal Training Institute at Vista, CA. Our school is located at 2128 Thibido Drive. You'll find us conveniently located just off the 78 freeway in North County, near Camp Pendleton and directly next door to "The Gym."
We proudly offer the most advanced, state-of the art education for aspiring exercise professionals, wellness coaches, yoga instructors and exercise physiologists. All of our courses are taught in-person (in a classroom & gym) and are thoughtfully developed to provide the most comprehensive and well-rounded education and training. This is real-world, hands-on learning. Prior experience is not necessary, and we welcome all students with a wide variety of goals and aspirations. Our graduates go on to lead successful careers and stand by our program as having been one of the most rewarding experiences of their lives. We welcome you to our family and look forward to the upcoming session!

PERSONAL TRAINING PROGRAM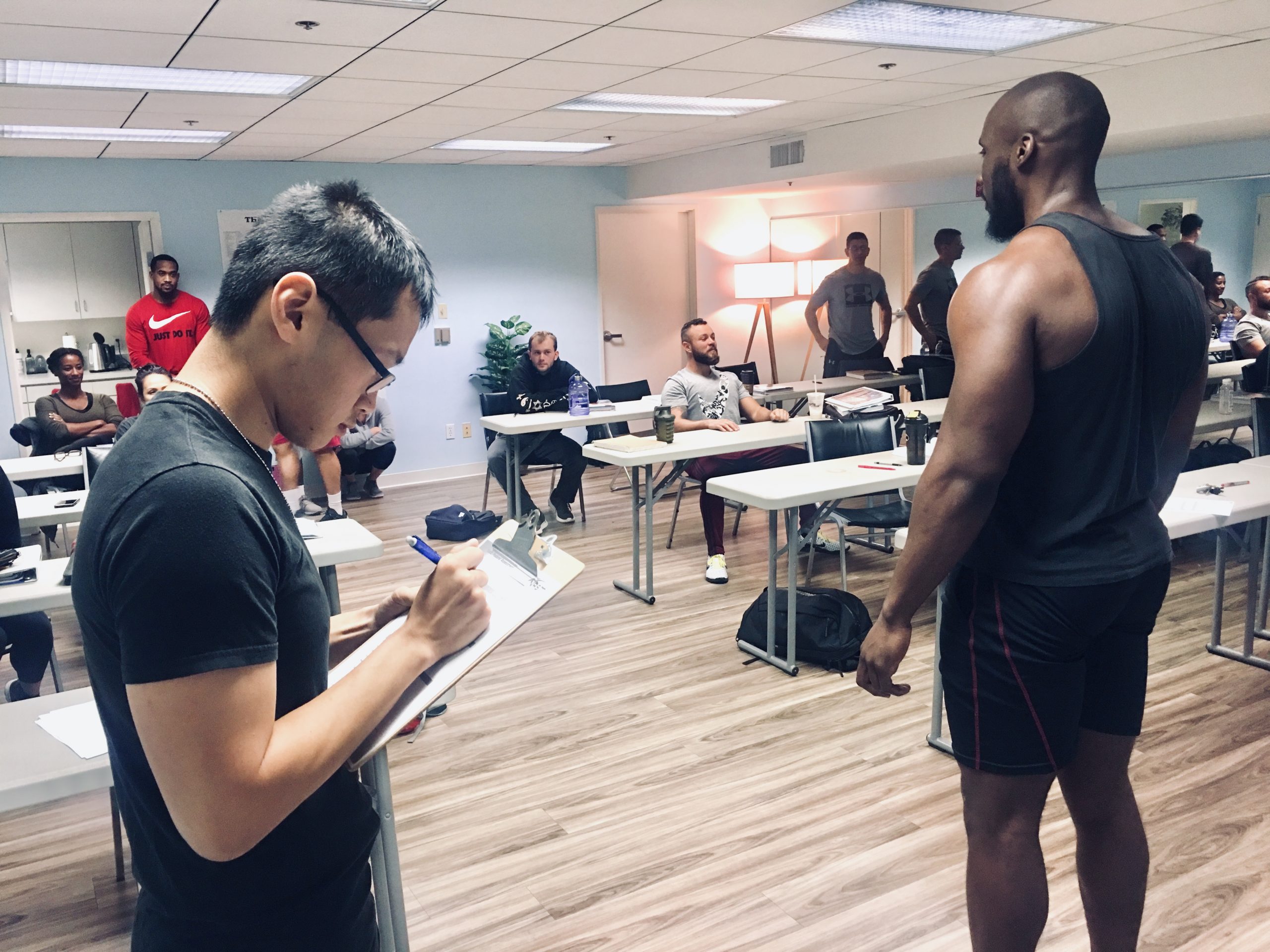 This intensive, 6-month diploma program will give you a competitive advantage as you learn the real-world concepts of personal training and exercise science. Each week, students will explore a wide range of topics, intentionally geared to spark critical thinking, creativity and a deep understanding of exercise physiology. This is not a weekend crash course folks! This is a detailed and comprehensive program that many compare to a university kinesiology program. Classes range from 10-20 students, and take place in a modern classroom, and a state of the art gym. Consider this your "home away from home" as you and your fellow classmates (led by your instructor) delve into the fundamentals of Personal Training and apply these concepts in a safe and practical way. We are partnered with the National Academy of Sports medicine and provide all of your course materials, including your NASM CPT Exam, CPR/AED Training and gym membership. This hands-on diploma program will set the stage for your confidence, skill-development and overall success. We are committed to providing the highest standard of education to each and every student.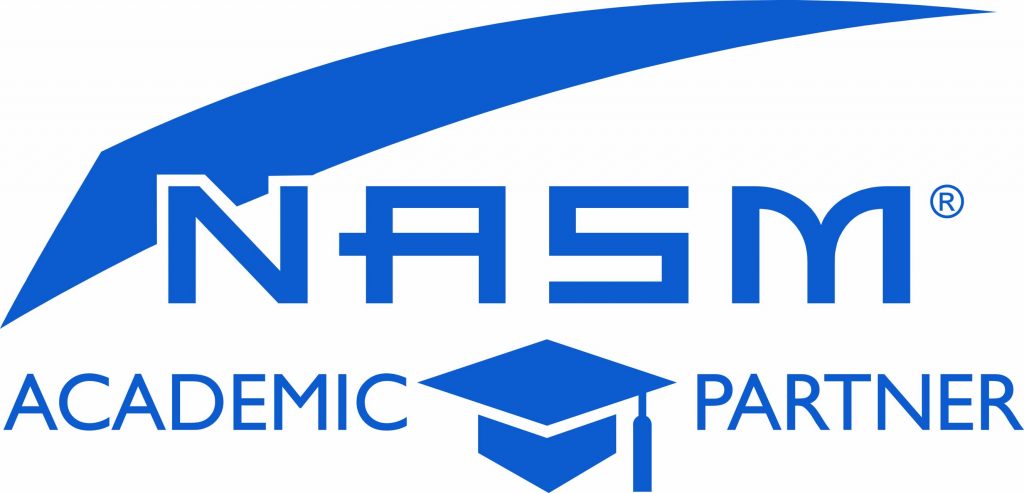 The Personal Training Program includes:
Daily lecture in a comfortable classroom setting
Daily hands-on application of material in our fitness facility
Gym membership, NASM textbook, Study Materials, Course Workbook
CPR/AED seminar/training and 2-year Certificate
BPPE approved Diploma (does not expire) and eligibility to sit for the National Academy of Sports Medicine CPT exam
NASM CPT study prep and practice test
Access to in-house guest lectures, seminars, networking events
This course (and all other courses we offer) are eligible for Chapters 30, 31, 33, 35 and the MyCAA spousal program. For veteran applicants, please click here for instructions.
Prospective students can enroll in January, April, July and October
Tuition and Fees:
$6,899.00
Please review this link for information on our zero interest payment plans.
*Flexible, interest free, payment plans are available, with extended options available to qualifying students. Only the Diploma Program is offered in California.
View our catalog here.
Only the Diploma Program is offered in California.
500 hr Personal Training Diploma ( includes NASM CPT)
500 hr Yoga Teacher Training
200 hr Performance Enhancement Specialist ( includes NASM PES )
200 hr Corrective Exercise Specialist ( includes NASM CES )
220 hr Health Coach Specialist ( includes NASM WLS and FNS )

***ENROLLING NOW!
Continuing Education Enrollment Agreement
Please contact our admissions department: [email protected] to apply today while seats are available. These classes are considered full time, and are eligible for the GI Bill®! Call now (619) 840-3322
---
INTERNATIONAL STUDENTS
Yes, international students are welcome! Please email our Admissions department for more information on this exciting opportunity to get started today. We can discuss travel, accommodation options, course details, schedule of classes, and more.

Julie McCallson
VA Certifying Official
[email protected]
(949) 463-7649
(800) 460-0933
Choose from the following start dates to begin your career as personal fitness trainer or to enhance your skills and gain continuing education credits.
Apply Now
Request Pricing
April 2021
500 HR Personal Fitness Training Program Apply Now

Dates:

04-12-2021 to 10-07-2021

Days of Week:

Monday - Thursday

Format:

DAY

Time:

9:30 am to 2:30 pm

Minimum Seats:

-

Maximum Seats:

-

Practical Gym Location:

The Gym in Vista, CA
get_field();?> 6 month program

July 2021
500 HR Personal Fitness Training Program Apply Now

Dates:

07-12-2021 to 01-07-2022

Days of Week:

Monday - Thursday

Format:

DAY

Time:

9:30 am to 2:30 pm

Minimum Seats:

-

Maximum Seats:

-

Practical Gym Location:

The Gym in Vista, CA
get_field();?> 6 month program

October 2021
500 HR Personal Fitness Training Program Apply Now

Dates:

10-11-2021 to 04-07-2022

Days of Week:

Monday - Thursday

Format:

DAY

Time:

9:30 am to 2:30 pm

Minimum Seats:

-

Maximum Seats:

-

Practical Gym Location:

The Gym in Vista, CA
get_field();?> 6 month program