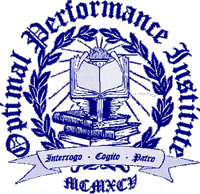 www.opi.edu
The Optimal Performance Institute (OPI) will accept 30 credits (or 10 courses waived) for those who have completed NPTI's 500-hour personal training program.
Massage therapists and yoga instructors from NPTI will also have credits accepted (TBD) on an individual case basis.
Online Degree Programs:
OPI offers an Associate's degree in personal fitness training and entrepreneurship. This is for the person who has less than 60 credits college credits, a high school diploma or equivalent. Ideal candidates for this program are looking to separate themselves from those with only a certification. They also want to have a management/entrepreneurship education as well.
The Bachelor's degree is for those with 60 or more credits from a college. The focus in this program is practical exercise science, athletic nutrition and introduction to sports psychology. Graduates are able to attain management positions and leadership positions in the health and fitness industry.
The Master's of Science in Nutrition and Exercise is strongly focused on holistic nutrition. Those with a bachelor's degree are encouraged to apply. Graduates are in a strong position to teach for various commercial companies, consult with clients, and develop their own products and businesses.
The Master's of Applied Sports Psychology is focused on Neuro-Linguistic Programming (the Meta-Skills Model developed by Dr. Marlin Mackenzie professor emeritus, Teacher's College – Columbia University), sports hypnosis, and the practical methods of Dr. James Loehr, Dr. Don Greene and others in the field.
Graduates are able to counsel athletes, executives, musicians and other performers. Those in the fitness field will find their skills useful in motivating and encouraging success in clients one-on-one or in groups.
Call 1-800-785-1042 or e-mail [email protected] to speak with an admissions representative.