***IMPORTANT UPDATE***
The National Personal Training Institute of Southern California has been approved by the VA to now offer instruction VIA ONLINE due to the Covid-19 situation. This is good news, in this difficult time, especially for our Veterans as their Housing allowance and benefits remain uninterrupted. Many of our students and potential students will now be able to attend class via online while they stay at home to take care of themselves and their family members.
Approved for Veterans Benefits, Chapter 30, 31, 33, 35, and the Military Spouse Program MyCAA. Please call NPTI's California's Certifying Official 1.800.460.0933 for more information.
Become a Personal Trainer in
Dublin | San Francisco Area, CA


As the oldest school in North America dedicated to comprehensive education for career- level personal trainers, the National Personal Training Institute is dedicated to producing the country's best personal trainers. Our school in San Francisco has become known throughout California for producing graduates that emerge from our 500-hour program in the best shape of their lives. Armed with superior teaching skills, positive personalities and dedication to seeing each of their client's succeed, our graduates have what it takes to help every one of their clients reach their health and fitness potential.
With world-class instructors, superior facilities and equipment as well as the educational materials geared to maximizing physical fitness education, our graduates are well positioned for career and financial success. In addition to the diversity of fitness training, health, and safety skills our program provides, graduates enter their career with the respected National Academy of Sports Medicine Certification (NASM).
The National Personal Training Institute of Southern California's partnership with NASM will give you an incredible hands-on education that will fully prepare you to enter the competitive job force. Graduates of NPTI will receive a Diploma as an Advanced Personal Trainer and will be eligible to sit for the NCCA accredited NASM Certification upon completion. This 500 hour course involves 200 hours at a gym training and 300 hours in the classroom.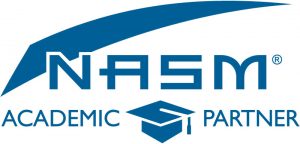 Tuition and Fees:
$6,899.00
Includes books, online CPT materials, Diploma, NASM/CPT and CPR/AED Certifications.
Monthly payment plan options and financing available.
View our catalog here
Only the Diploma Program is offered in California.
No online or hybrid programs available.
500 hr Personal Training Diploma ( includes NASM CPT)
500 hr Yoga Teacher Training
200 hr Performance Enhancement Specialist ( includes NASM PES )
200 hr Corrective Exercise Specialist ( includes NASM CES )
200 hr Health Coach Specialist ( includes NASM WLS and FNS )
---
In addition to flexible payment plans and financing options, we cater to those with Veterans Benefits (30, 31, 33, 35), and the Military Spouse Program (MyCAA). Please call NPTI's California's Certifying Official at 1.800.460.0933 for more information on how to prepare for a career as a personal fitness professional that is second to none.
Attention International students!
Many of our  International students  have been able to use a B-2 Visa to attend our school as we are not a credit based college and our classes fall within the 18 hour per week visa restrictions.
Please email our International Student Coordinator for more information on this exciting opportunity to get started today!
---

Matt S.
Admissions Advisor
1-619-840-3322
email:[email protected]
Julie McCallson
VA Certifying Official
1-800-460-0933
1-949-463-7649
email:[email protected]
Dublin | San Francisco Area, CA
Dublin Fitness
7100 Village Pkwy
Dublin, CA 94568
Phone: 1-619-840-3322
Phone: 1-800-460-0933
Email: [email protected]
Apply Now
Request Pricing
June 2020
August 2020
500 HR Personal Fitness Training Program Apply Now

Dates:

08-31-2020 to 02-25-2021

Days of Week:

Monday - Thursday

Format:

DAY

Time:

10:00 am to 3:00 pm

Minimum Seats:

-

Maximum Seats:

-

Practical Gym Location:

Dublin Fitness in Dublin, CA
get_field();?> 6 month program

500 HR Personal Fitness Training Program Apply Now

Dates:

08-31-2020 to 02-27-2021

Days of Week:

Monday, Wednesday and Saturday

Format:

EVENING & SATURDAY

Time:

5:30 pm to 10:30 pm

Minimum Seats:

-

Maximum Seats:

-

Practical Gym Location:

Dublin Fitness in Dublin, CA
get_field();?> 6 month program


Saturday: 9:00 am - 5:00 pm
500 HR Personal Fitness Training Program Apply Now

Dates:

08-31-2020 to 08-25-2021

Days of Week:

Monday and Wednesday

Format:

EVENING

Time:

5:30 pm to 10:30 pm

Minimum Seats:

-

Maximum Seats:

-

Practical Gym Location:

Dublin Fitness in Dublin, CA
get_field();?> 12 month program

September 2020
500 HR Personal Fitness Training Program Apply Now

Dates:

09-05-2020 to 08-28-2021

Days of Week:

Saturday

Format:

DAY

Time:

9:00 am to 5:00 pm

Minimum Seats:

-

Maximum Seats:

-

Practical Gym Location:

Dublin Fitness in Dublin, CA
get_field();?> 12 month program

November 2020
500 HR Personal Fitness Training Program Apply Now

Dates:

11-30-2020 to 05-27-2021

Days of Week:

Monday - Thursday

Format:

DAY

Time:

10:00 am to 3:00 pm

Minimum Seats:

-

Maximum Seats:

-

Practical Gym Location:

Dublin Fitness in Dublin, CA
get_field();?> 6 month program

500 HR Personal Fitness Training Program Apply Now

Dates:

11-30-2020 to 05-29-2021

Days of Week:

Monday, Wednesday, and Saturday

Format:

EVENING & SATURDAY

Time:

5:30 pm to 10:30 pm

Minimum Seats:

-

Maximum Seats:

-

Practical Gym Location:

Dublin Fitness in Dublin, CA
get_field();?> 6 month program


Saturday: 9:00 am - 5:00 pm
500 HR Personal Fitness Training Program Apply Now

Dates:

11-30-2020 to 11-24-2021

Days of Week:

Monday and Wednesday

Format:

EVENING

Time:

5:30 pm to 10:30 pm

Minimum Seats:

-

Maximum Seats:

-

Practical Gym Location:

Dublin Fitness in Dublin, CA
get_field();?> 12 month program

December 2020
500 HR Personal Fitness Training Program Apply Now

Dates:

12-05-2020 to 11-27-2021

Days of Week:

Saturday

Format:

DAY

Time:

9:00 am to 5:00 pm

Minimum Seats:

-

Maximum Seats:

-

Practical Gym Location:

Dublin Fitness in Dublin, CA
get_field();?> 12 month program