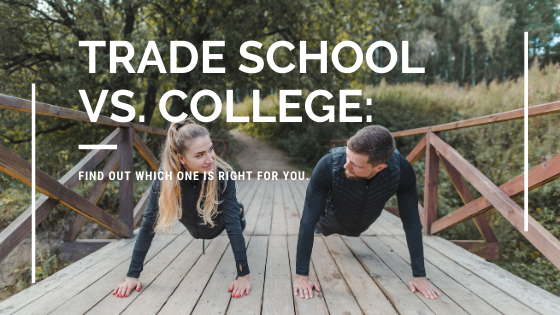 If you are interested in becoming a Personal Trainer, then you are likely questioning whether a "trade school vs. college" is the right decision for you. With numerous training options out there, it can be confusing to select a path.
If you are looking into college for personal training, do yourself a favor and check us out! Here are a few key points to consider the difference:
Trade schools offer hands-on training. Every day that you come to school you will be working out. Your classmates will be all ages and backgrounds which offers an incomparable hands-on experience. National Personal Training Institute graduates are exceptionally well-prepared to step into the industry – and hit the ground running.
Degrees from colleges and universities involve pre-requisites that are not in your field of interest but rather math, history, sociology, costing you extra money and time.
The National Personal Training Institute's curriculum is 100% fitness related!
Being a vocational school, job placement assistance is extremely important and all graduates are assisted throughout the process. Employers contact us daily looking to hire National Personal Training Institute graduates given their extensive hands-on training.
Affordability. Consider the cost-benefit of a shorter, more specific vocational education.
Our schools are filled with students that went to college originally but found that the unrelated coursework was not for them.
The National Personal Training Institute's course is more challenging than traditional college degree programs. The focus is on fitness and we will make you a great personal trainer!
Still undecided what option is best for you? Schedule a visit to sit in on a free class to see what the National Personal Training Institute is all about!