Become a Personal Trainer in Augusta, Georgia
Aspiring fitness professionals looking for personal trainer schools in Georgia need to look no further than the National Personal Training Institute. We have a location in Augusta, GA to help you earn the certifications to become a personal trainer. Learn more about our comprehensive training program from the best personal training school in Georgia.
Why choose The National Personal Training Institute?
We are the oldest and largest personal training school in North America. You will be recognized across the world and not localized like other colleges. 
We believe that you can not be a personal trainer without hands-on training.
NationalPTI Diploma is better than a standard personal trainer certification. Graduates receive a licensed diploma that is good for life. No continual CEU upkeep. 
Employers actively seek and hire graduates due to the credibility of the program. 
Interactive learning with live teacher instruction and interaction with other students.
Best course in the country and the only course where you will get in the best shape of your life.
The best way to make this your career is to go to an actual school where you have the best trainers mentoring you. 
6 Months of hands-on training every class day. 
Classes start every 6 weeks.
High demand for trainers and lifetime job placement assistance. 
Leading Personal Training School in Augusta, GA
With state-of-the-art education specifically designed for aspiring personal trainers, NationalPTI offers the best personal trainer certification program in Georgia. We combine virtual learning and hands-on experience in building the fitness professionals of the future. Allow us to develop your personal training skills through the best practices in fitness training.
When can you enroll in our program?
July, August, October, November, January, February, April, May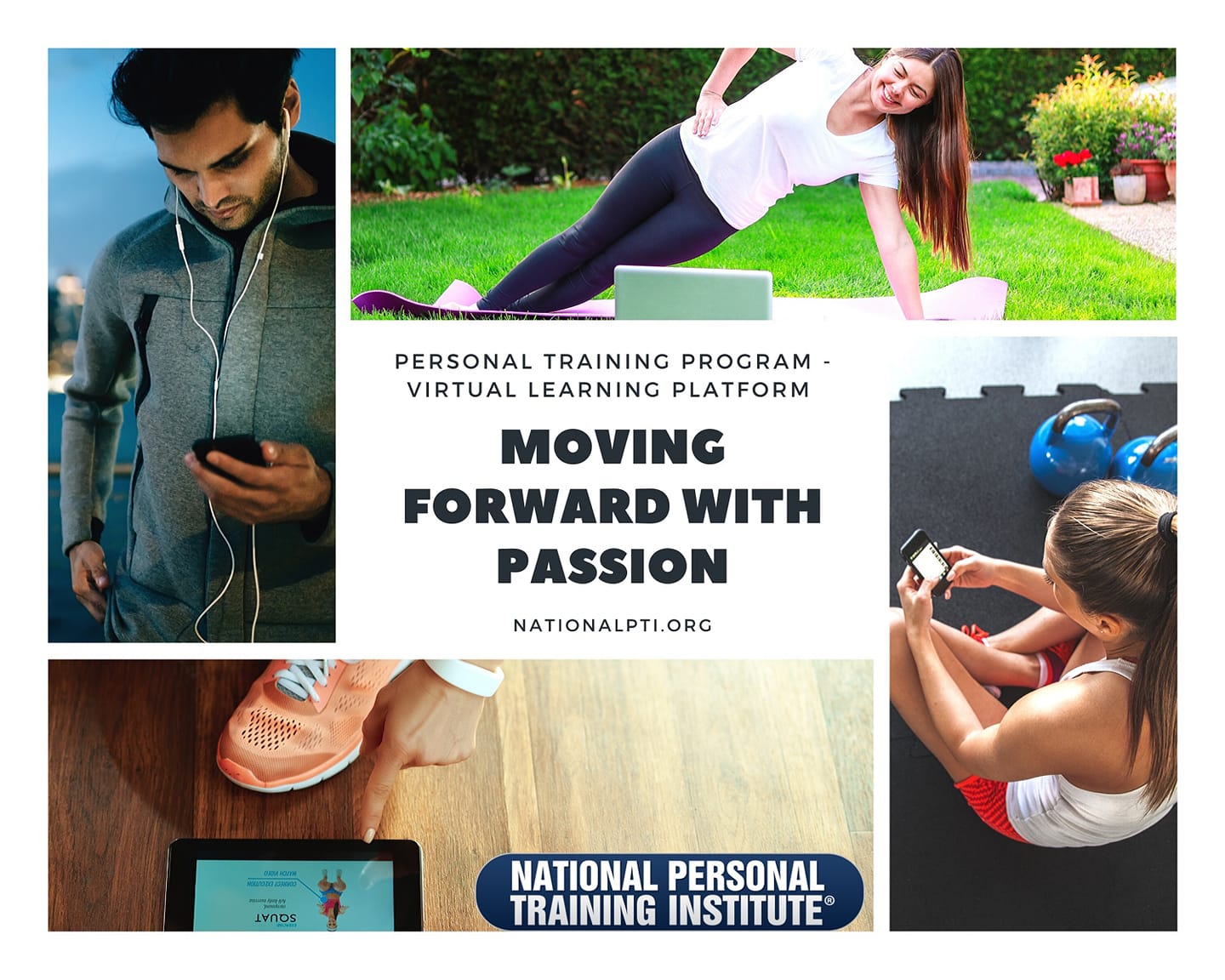 What Can You Expect From Our Personal Trainer Certification Program?
Our comprehensive program offers live distance learning strategies to help aspiring fitness professionals learn in their preferred environment. With NationalPTI in Augusta, GA, you can expect:
Daily Remote Lectures:

Learn the best practices to become a personal trainer in the comfort of your home or wherever you can access the internet.

Hands-On Classes:

Despite being online, our classes are live. Expect practical activities where you can apply lessons in real-life situations.

Study Materials:

We provide complete fitness training resources to ensure you get the best from our program.

Personal Fitness Training Diploma:

Upon graduating from our personal training program, you will have the highly regarded recognition from NationalPTI to begin a career in the fitness industry of Augusta, GA.
Learn From Highly Skilled & Supportive Professionals
Join like-minded individuals and specialists in getting your personal trainer certification. In our program, you will attend virtual courses with instructors and classmates as you go through comprehensive personal trainer classes. We are proud to offer an environment that fosters your fitness goals. With our course, you will be ready to pursue a career as:
Exercise Professionals:

You can pursue a career as a fitness specialist with an important role in healthcare teams. We designed our training program to help you understand the best practices in modifying lifestyle behaviors and promoting good health. You can eventually develop your knowledge in this field to assist patients experiencing chronic diseases.

Wellness Coaches:

Our specialized personal training program can train you to become a health and wellness coach. As a professional conducting one-on-one sessions with clients, you can tailor your services to unique individuals. We are confident with our program's scope, as we cover all the essential strategies expected of personal coaches.
We are ready to lead you through the best practices to improve people's overall lifestyle through fitness. Allow NationalPTI to help you master the strategies through our comprehensive personal trainer certification program.
Open to All Aspiring Fitness Instructors
You do not need prior experience to join our virtual course. We offer real-world, hands-on education for all aspiring personal trainers. Our team of highly skilled instructors is ready to share their experience in professional fitness training regardless of your skill level.
We are proud to offer the best personal trainer certification program in Augusta, Georgia. We believe that professionals build professionals. So, we ensure that all our instructors are respectable and ready to help you break into the local fitness industry.
We are ready to welcome you to the NationalPTI family. Sign up today to begin your journey as a professional fitness instructor.

Online Personal Training Continuing Education (CEUs) that allow freedom of online, self-paced learning with interactive videos to enhance your learning experience.
Learn more here.

Tina Manacchio: Academic Advisor
Currently updating schedules. Check back soon!