WE ARE ENROLLING NOW!
If you're looking at how to become a certified personal trainer in the fitness industry, our personal trainer certification program in CT is perfect for you.
You've probably heard that the best way to get fit is through working with a personal trainer. But what if you could learn how to become one yourself? The National Personal Training Institute offers a diploma program that will teach you everything you need to know about fitness and a healthy lifestyle.
Why choose The National Personal Training Institute?
We are the oldest and largest personal training school in North America. You will be recognized across the world and not localized like other colleges. 
We believe that you can not be a personal trainer without hands-on training.
NationalPTI Diploma is better than a standard personal trainer certification. Graduates receive a licensed diploma that is good for life. No continual CEU upkeep. 
Employers actively seek and hire graduates due to the credibility of the program. 
Interactive learning with live teacher instruction and interaction with other students.
Best course in the country and the only course where you will get in the best shape of your life.
The best way to make this your career is to go to an actual school where you have the best trainers mentoring you. 
6 Months of hands-on training every class day. 
Classes start every 6 weeks.
High demand for trainers and lifetime job placement assistance. 
Top Personal Training Program in CT
The National Personal Training Institute is a 500 Hour Personal Training school that can help you get started on your path of how to become a certified personal trainer in Connecticut. We offer hands-on training and real-world experience, so you're ready to work when it comes time for your certification exam. You'll learn from our experienced instructors who have been in the field for several years, and we guarantee that once you graduate, you will receive a personal trainer certification and we will find you a job as a personal trainer or fitness instructor.
Our personal training program includes everything from business for the fitness professional to nutrition education, so no matter what area of health and wellness interests you most, we have something for everyone in CT. You'll learn how to design safe, effective workouts, motivate clients, and teach them how to eat nutritiously so they can achieve their goals faster than ever before.
How To Become a Certified Personal Trainer in Connecticut
If you're interested in how to become a certified personal trainer, you can join the fight against obesity through the National Personal Training Institute. With a personal training certification, it's easier to take a step in the right direction to help residents in CT become healthier and live more functional lives. All it takes is to get certified through our personal training program.
NationalPTI is a virtual personal training school in CT that provides true foundational knowledge with hands-on integration. These required components of our personal training certification program set us apart from other training schools that offer national certifications. More than self-paced reading and an examination, our educational platform provides an enriching way of integrating fitness principles using a real-life approach.
What Is the NationalPTI Certified Personal Trainer (CPT) Program?
Our personal training school offers the Certified Personal Trainer (CPT) program, which is a 500-hour personal trainer certification course that combines online theory and hands-on learning. The course materials are written and conducted by some of the best professionals in the industry, providing a holistic view of health, wellness, and exercise science education. The program also includes the application of these principles in a training center.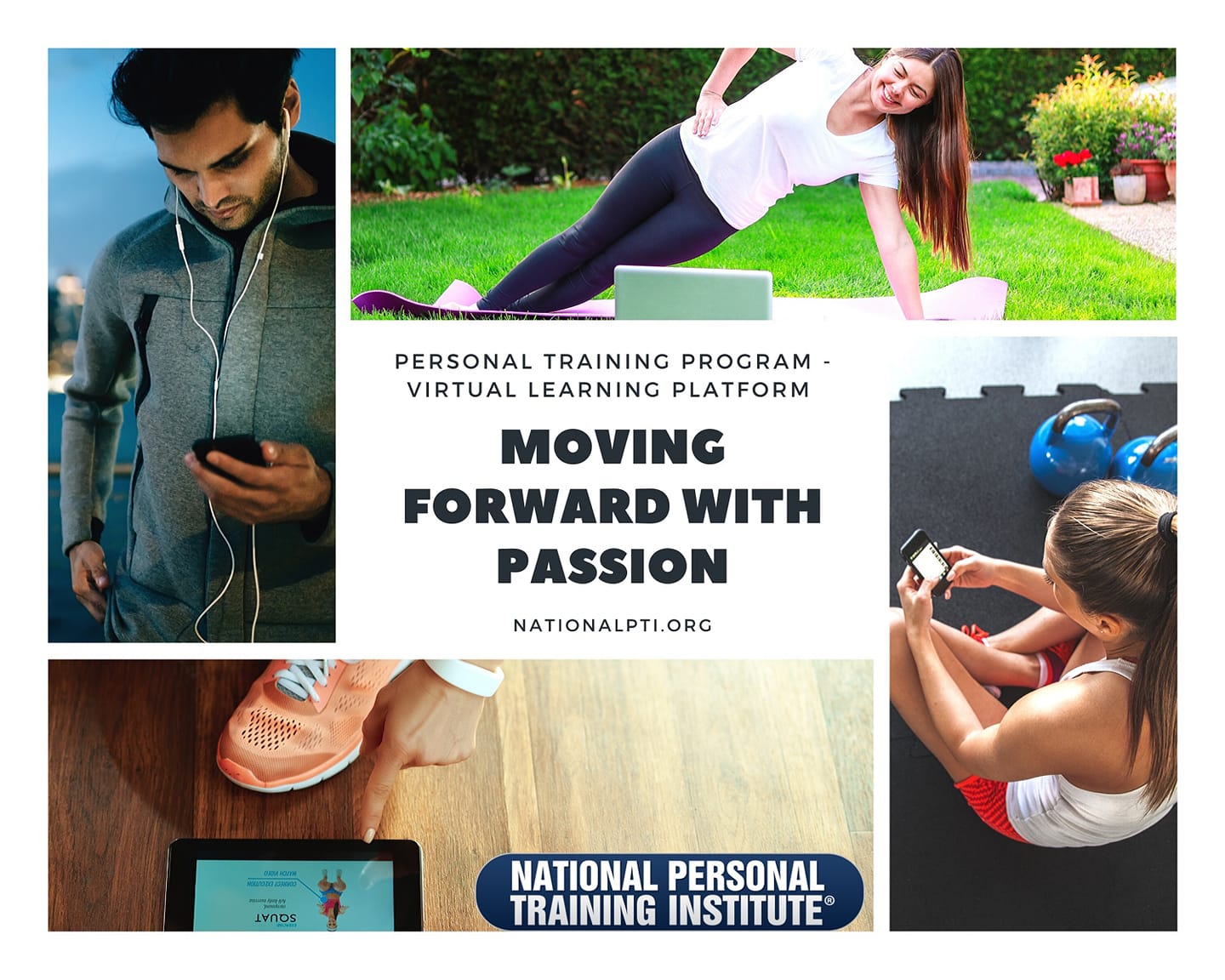 500 Hour Certified Personal Trainer (CPT) Program Helps Aspiring Trainers
Our personal training certification program helps aspiring trainers in CT to develop their personal style, find their voice, and excel in their fitness training career from day one. Whether it's to start a business with a high-earning potential or simply to help people achieve their fitness goals, we are here to support what drives our students every step of the way.
Our personal training program includes:
Daily lecture in the comfort of your home

Daily hands-on application of material with your instructor

Personal fitness training diploma

Nutrition certificate
Equipped with comprehensive knowledge and real-life practice, those who complete our CPT program are well on their way toward a thriving fitness training career. At NationalPTI, we provide a solid foundation to help every student complete their personal trainer certification. We help our students stay motivated and continue to invest in themselves.
Hands-On Experience in the Field To Prepare You for Your Career
At NationalPTI, we understand how important it is for our students to apply what they learn. That's why one of the integral parts of our program is the hands-on portion where every student gets to practice the theories and principles of personal fitness. Students who have obtained their personal trainer certification in RI can even attest to how much this approach has helped them succeed in the health fitness industry.
Our personal training school guarantees that every student will have the know-how they can readily apply in a real-world setting. At the end of the training program, they will have gained all the knowledge they need and use it accordingly to be the most effective personal fitness trainer they wish to be.
Contact Us To Learn More About Our School in CT
If you're interested in how to become a certified personal trainer in CT, our personal training school guarantees a well-rounded approach that will help you become the best personal trainer you want to be. With a personal trainer certification, you'll be ready to start your practice with enough confidence and the right motivation to excel in your field.
To know more about how you can get started with our personal training program, visit the National Personal Training Institute website for more information. Or, you can leave us a message in our contact box so we can get in touch with you soon!

Online Personal Training Continuing Education (CEUs) that allow freedom of online, self-paced learning with interactive videos to enhance your learning experience.
Learn more here.

Tina Manacchio: Academic Advisor
Connecticut

Locations in , CT
Currently updating schedules. Check back soon!