Approved for VA Education Benefits – Call ‭541-915-5875‬ for more information!
BECOME A PERSONAL TRAINER IN WASHINGTON STATE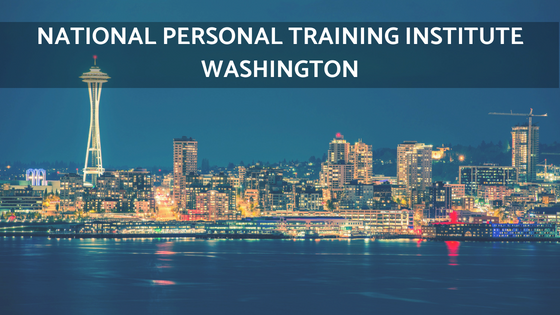 Where Experienced and Future Fitness Professionals Come to Keep their Education Cutting Edge!

Welcome to the National Personal Training Institute of Washington State where you can get a quality education through hands on experience in the gym. Our students step into the gym with confidence! Whether they are on the path to a better version of themselves, changing the lives of others, or wanting to be at the top of their game in their Fitness Career; we provide the opportunity for education, transformation, and confidence for all.
---
The National Personal Training Institute is a community of alumni, gym partners, trainers, coaches, or parents that see fitness, health and wellness education as being paramount within their lives.
Partner with the National Personal Training Institute and distinguish your gym as having an educational standard.
Continue your professional development with our Workshops, Continuing Education Units, or Memberships to keep you informed, cutting edge, and gain a distinct advantage to be successful in this industry or your life.
Join our social media forums for fitness, health and wellness tips, along with CEU, Membership and Workshop offerings.
We are excited to meet you and welcome you into the community personally!


Step 1:
Click the link above and register for your class.
Step 2:
Reach out to the Director, Rebecca Kawaoka, and let her know which class you signed up for so that they can assist in making your journey a personal and successful one.
Step 3:
Have a blast, join our online community on Facebook, and Instagram, check out the rest of our educational website, and find joy in knowing you have a direct link to Health, Wellness, and Fitness Leaders world-wide.

Rebecca Kawaoka
Director
815.713.8020

After you get certified online from the National Personal Training Institute Certification Program, or any other Degree or Certification – we will help you find your practical hands-on externship within a gym or trainer of your choice!
We also offer phenomenal hands-on workshops (see schedule below) that will boost your confidence and give you the competitive edge needed in the industry, online Continuing Education (CEUs) that allow freedom of online, self-paced learning with interactive videos to enhance your learning experience, and memberships that will support you through your entire career and/or healthy life journey.
Join our community of like-minded individuals and let us be part of your continued professional or self-development needed to shine in this industry.
Why Choose Our Program?
With National Personal Training Institute's Online Certification (CPT) you will have the freedom to choose when you study and how you study with online course flexibility. Once you have completed all online requirements you will then receive the best hands-on practice in a gym setting, including kettlebell training, sling training and CPR/AED/First Aid.  Our practical program, externships, and workshops allow you to experience firsthand what it's like to work with a client. This hands-on training is invaluable as you embark on your new career as a certified personal trainer. Our program gives you the knowledge, confidence and resources you'll need to be the best in this field.
Class size:
5 to 25 students
Space is limited – reserve your spot today!
LEVEL II INTEGRATION & WORKSHOPS
Our Level II Integration and Workshops are designed to accompany our online 100-hour Certified Personal Trainer (CPT) Program. However, anyone and everyone can take advantage of our 100-hour hands-on education to take your Fitness Career to the next level. What are you doing to set yourself apart from the rest? We have been training and educating the most sought after and professional trainers for over 20 years. Join the movement!
Tacoma, WA (January)
Class schedule: Monday & Wednesday (6:00 PM – 10:00 PM)  ||  Saturday (9:00 AM – 6:00 PM)
Foundation and Assessment Workshop (January 14th – 26th)
Kettlebell Training Workshop (February 3rd)
Sling Training Workshop. (February 2nd)
CPR, First Aid/AED (January 30th)
Program Design and Integration Workshop (February 4th – 16th)
Bellevue, WA (March)
Class schedule: Monday, Wednesday (10:00 AM – 3:00 PM) || Saturday (9:00 AM – 6:00 PM)
Foundation and Assessment Workshop
Sling Training Workshop
Kettlebell Training Workshop
CPR, First Aid/AED
Program Design and Integration Workshop
***CONTACT US FOR MORE INFORMATION ON ALL OF OUR OFFERINGS.***

Auxiliary Locations
---
Spanaway Fitness
13819 Pacific Ave S, Tacoma, WA 98444
Vigor Ground Fitness and Performance
332 Burnett Ave S, Renton, WA 98057
23 Fit Club
10620 NE 8th St, Bellevue, WA 98004
---

Like us on Facebook!
Washington State
(inside Spanaway Fitness Center)
13819 Pacific Ave S
Tacoma, WA 98444
Phone: 815.713.8020
Email: [email protected]
Apply Now
Request Pricing