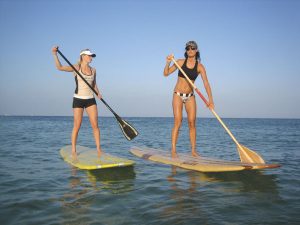 We've all been there, the summer months arrive and with them come warmer weather, more hours of daylight, and the last thing you want to do is find yourself cooped up inside a gym. That being said, you still want to make sure that you are staying in shape. After all, beach season is in full swing and most of us want to have that impressive beach body when we hit the sand and the surf. So, what can you do to be sure that you're still getting your usual workouts in, while staying out of the gym? Those who receive their personal trainer certification promote the importance of heading outdoors for some fresh air and Vitamin D to break your summer gym rut.
Hit the water
Swimming offers a great workout, regardless if you're in your backyard swimming pool, cranking out laps at your local YMCA or community center, or even if you're riding waves or wading in the ocean, a lake, or a river. Swimming is great cardio not to mention a full body resistance workout, especially in the currents of the ocean.
Park it
We all know that standard weight training can be dull if you don't switch up your routine. So, try to find a local park that has basic circuit training stations. While these circuit stations may seem like simple, easy exercises, they can absolutely go a long way in helping you achieve your fitness goals. Many of the circuit stations will allow you to work on pull-ups, dips, jumps, balancing drills, as well as other exercises. It's a great change from lifting weights, and allows you to use your body weight as resistance.
Paddle away
Tone your entire body without feeling like you're actually working out. Stand-up paddleboarding is a fun way to get a great workout. Don't be fooled by how easy this looks – those paddle-boarders have serious balance! While you stand on an oversized long board, you use a paddle to travel across calm, flat waters. Stand-up paddleboarding requires the use of your entire body, emphasizing the use of your core and stability.
CrossFit outdoors
CrossFit workouts are highly popular across the country. While standard CrossFit workouts typically utilize weights and equipment, there are a number of CrossFit On-the-Road Workouts that will let you get a great workout outdoors, without the use of weights or equipment.
Run with it
The treadmill might not be your top pick for summer fitness. Instead, hit the open road, trail, or track and start running. An outdoor run on the road lets you change up the scenery of your workout, while improving your leg strength and working on your cardio fitness.
As you can see, these are only a sampling of some ways to let you get outside and enjoy the sun and the warm weather while still keeping up with challenging workouts.