Halloween–the holiday when our cravings for sugar reach a fever-pitch. Often times we find ourselves going overboard with candy. Whether it's the candy that our kids have collected and we "just take a piece or two… or three" for ourselves, or we just like to over-indulge in the candy you find on the store shelves, sugar indulgences can spiral out of control faster than you can say "boo." While it can be difficult to stay away from those sweet treats, we all know that Halloween candy is a ton of sugar, calories, and too much is certainly not good for our health. So, how do you cater to your sweet tooth without packing on the pounds?
Read our list then hit the shelves for the best Halloween candy options that won't put your body over the edge.
Three Musketeers Minis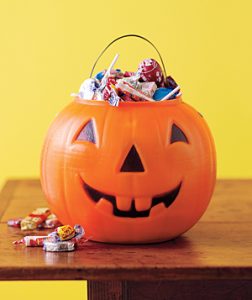 The fun size bars have 63 calories with two grams of fat and 11 grams of sugar. This bar is lighter than your typical chocolate bars that are filled with peanuts or caramel.
York Peppermint Patty
This refreshing minty treat has 165 calories in a full-size bar, with three grams of fat, and 27 grams of sugar. It is lower in calories and fat than other heavier chocolate candies.
Tootsie Roll
Indulge in a small Tootsie Roll. One roll has 50 calories, one gram of fat, and 10 grams of sugar. Don't go crazy eating too many of these, as the calories can add up quickly!
Peanut M&M's
Go for the fun size. One fun size pouch has 90 calories, five grams of fat, and nine grams of sugar. The fun size pouch is a great way to promote portion control for you and keep yourself from eating too many!
Jolly Ranchers
Eating three Jolly Ranchers pieces will give you 70 calories, zero grams of fat, and 11 grams of sugar. Sucking on these candies will help the treat-time last longer!
Pay Day
Chock full of protein, these little sweet and savory pieces can stave off hunger and satisfy sweet cravings.
As you can see, there is a good number of Halloween candy you can choose to snack on without tipping the scales. And you won't have to worry about packing on the pounds if you indulge responsibly!