After a long work out, you may be feeling sore. While this is common, it's important to seek out the proper measures to alleviate any pain or consistent stress on overworked muscles. Like anyone attending personal training programs will tell you, massage therapy can help you with muscle growth, recovery, as well as inflammation-related chronic conditions.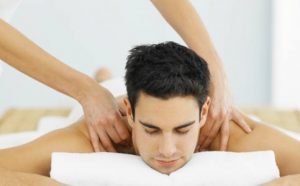 Pain results in the soft tissues of the body. Lower back pain generally comes from muscles, same with sciatica. For some conditions regular massage therapy can reduce the need for surgery. For example carpal tunnel syndrome can be one ailment that could be corrected with frequent massage therapy. Whatever a person's ailment or condition may be, massage therapy uses the concept that tissues, muscle, fascia, tendons, and ligaments all respond to touch.
Massage works its purpose as a non-drug therapy. Massage offers the potential to assist bone-weary athletes, as well as those suffering from inflammation chronic conditions, like arthritis or muscular dystrophy. Massage works to relieve muscle tension, pain and also can trigger sensors that send inflammation-reducing signals to muscle cells. Massage will make you feel better, reduce stress, lower heart rate, lower blood pressure, increase circulation and increase lymph flow.
Regular massage therapy should be integrated into your life, if you're living a fitness lifestyle. It's more than a luxury item – it can help improve range of motion, reduces your overall recovery time, increases muscle tone, and even increases flexibility. Massage increases circulation; therefore facilities toxin removal, as well as handles other metabolic waste. It works to reduce the overall time it takes for your body to heal after an injury.
There have been many studies supporting these theories, such as someone who injured their shoulder. During a deep tissue massage, the masseuse could feel the pain and noticed it limited the joint's normal range of motion – increasing circulation to the affected area promoted the healing process naturally. After only a once a week session that took place over the course of three weeks, the range of motion returned back naturally, and the client returned back to the gym.
Massage therapy is more than a luxury, as you will learn if you attend personal training programs. In fact, if you're enrolled in any personal training programs, regular massages are extremely beneficial to ultimately enhance your performance, increase gains and reduce your complete risk for injury.