If you've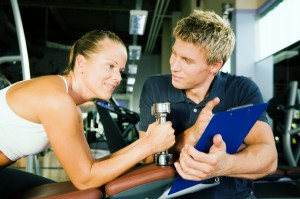 ever wondered how to become a personal trainer, you may be surprised to find that it's easier than you think.  Certified personal trainers typically attend a six-month program that covers a range of disciplines necessary to be successful in this field.  Here's how it works.
In order to become a personal trainer through the National Personal Training Institute (NPTI), prospective students complete an admissions applications and provide proof of U.S. citizenship.  Students must be 18 years old or older and have a high school diploma or the equivalent.
Learning how to become a personal trainer begins with education and fundamentals.  Our course spans 500 hours of top-rate instruction from expert teachers.  Students attend classes five hours a day, four days a week during the six months.  There is also the option of eight-hour classes every Saturday for a year.
You'll learn how to help your future clients get in shape in a safe and efficient manner.  To become a personal trainer at an effective level, you'll need to understand how to evaluate the beginning fitness level of clients and create useful exercise programs for them.
You'll also be taught how the body's muscle groups work and gain a full understanding of the parts of the body that come into play with various exercises.  Additionally, we'll cover nutrition, a body's energy systems, good and bad diet strategies and much more.
When you've completed the course, you'll receive a diploma from your state's department of education and certification from the National Academy of Sports Medicine.  These credentials and our job-placement services will allow you to become a personal trainer in many exciting work environments.
Want to know more?  Call NPTI at (888) 249-1949 if you're interested in how to become a personal trainer.  We'll be happy to put you on the fast track to success.  Click here to send an e-mail.