A career in the fitness industry is not only personally rewarding, but also provides you with flexibility and independence in a growing industry. With an increased interest in health, the U.S. Department of Labor estimates there to be a 13% growth in the demand of personal trainers between 2012 and 2022. Personal trainers are given the responsibility to encourage and assist people in achieving a healthier lifestyle. If you are passionate about fitness and enjoy working with people, personal training could be the perfect field for you. With more than 300 certifications available, figuring out how to become a personal trainer can be overwhelming. To help you make the right decision, we've put together five steps for getting started.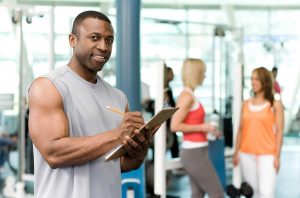 Step 1. Be Committed
Pursing a career as a certified personal trainer is not only fulfilling, but also has a large potential for career growth, as long as you're willing to put in hard work. Just like in any career, in order to excel in personal training, you should possess certain skills and personality traits. Certain characteristics are extremely effective when training others, for example strong communication skills, ability to motivate others, patience as well as being a good listener. It's also important to remember that you don't have to be a body builder or look like a fitness guru, in order to be a successful personal training. It is more important to be a role model to others through your healthy lifestyle. Clients wants to work with trainers who are experienced and knowledgeable in their craft, so it is important to not only take the necessary steps for certification but also, stay up on the latest fitness trends and research.
Step 2. Choose an Education
There are a variety of organizations and accredited programs that offer certifications in the health/fitness industry. When researching the right certification, it is important to keep your personal career goals in mind. Choosing an organization that is nationally recognized and accredited is a good starting point, but what exactly is the difference between a certification, degree and a diploma?
Pursuing a certification from one of the hundreds of fitness organizations is a flexible option that can be completed through textbooks or online course on your own time. While this approach tends to be faster than pursuing a diploma or degree, certifications usually do not require any hands-on experience. Although a personal trainer certification may seem basic in principle, it can become complicated due to the lack of regulation. Many gyms/clubs are particular about certification requirements, conducting research on certifications clubs require could be beneficial for your future employment. Two well-respected accredited organizations are the National Strengthen and Conditioning Association (NSCA) and the National Academy of Sports Medicine (NASM). In order to obtain these certifications, trainers must undergo legitimate education, as well as a timed testing.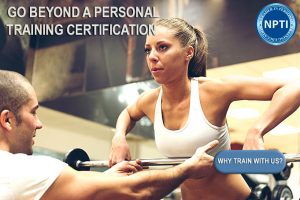 Another option for education in personal training is obtaining a bachelors or associate degree in kinesiology or exercise science. A college degree offers comprehensive knowledge and training but may take several years and cost thousands of dollars to complete.
A diploma in personal training would be the ideal option if you were looking for both hands-on as well as classroom training. Recognized by the Department of Education, a diploma requires no upkeep of Continuing Education Courses (CEC'S), meaning that a diploma in personal training is good for life. Many professionals in the health/fitness industry deem a diploma to be the highest level of personal training education that one can receive. A well-respected diploma takes just six month (or a year if that better suits your schedule) to earn through real work experiences from day one.
Step 3. Choose Your Specialty
Although not a necessity right off the bat, choosing a specialty can help you separate yourself from your competition. Becoming a specialist in a particular area of the health or fitness industry will provide you with the skills or tools to offer more credible services and increase your profitability. Be aware the certain careers paths require different certifications, which may have additional costs involved. Be sure to choose paths that best suits your careers goals. However, it also important to try different aspects of fitness, becoming a well-round trainer will not only increase your own fitness parameters but also help your clients reach their full potentials.
Step 4. Marketing Yourself
Once you have your certification, how do you become a "successful" personal trainer? Like any business, you must market yourself in order to attract clientele. The most effective marketing tool for the fitness industry is through word-of-mouth. Setting up social media accounts for your business is a free way to advertise and engage others. Whether your goals are to work independently or through a gym, creating business cards or flyers can help you gain exposure.
Step 5. Stay Current
The health/fitness industry is always changing and evolving. New products and trends are constantly being introduced. As a personal trainer, it's your job to stay up to date with the trends, as well as continuing your education in order to many relevant. Becoming a personal trainer requires passion and commitment.
If you're ready to take the step towards becoming a personal trainer, contact us today. Or you can click here to learn more about how to become a personal trainer.