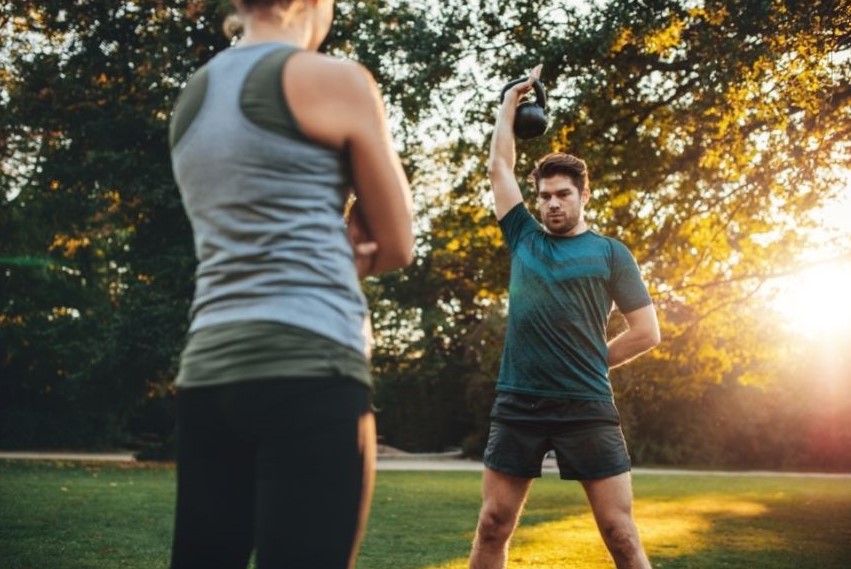 When people start working out and develop a passion for it, they may contemplate if they can help others as well by becoming a personal trainer. For some, once they get started with exercising and eating healthier, they decide that they would like to help others reach their goals too. Personal training is a good career to get into if you like talking about fitness and want to share your knowledge with others.
Many individuals that start on this career path feel like they are doing something good for the world by becoming a personal trainer to help others achieve their goals just as they were able to get healthy as well. Personal training is an exciting way to create a career in helping others get healthy and in shape. While working as a personal trainer, there is a high level of motivation on the trainer's end as they enjoy helping others change their lifestyles. Personal Training is one of the best career paths if you enjoy exercising, health, wellness and being in a health and wellness setting, such as a gym.
There are several educational options when deciding to become a personal trainer. These can range from weekend seminars, self-study certifications, college degrees and trade schools. The National Personal Training Institute, a state licensed postsecondary trade school, is considered to be one of the best options since it is all hands-on learning. This style of education provides quality lessons on sometimes tricky subject matter ultimately teaching you everything that you need to get started in a successful career.
The field of becoming a personal trainer is growing given that both the public and employers are recognizing the importance of health. Additionally, gyms and wellness centers continue to open and are continually in need of staffing. It is fairly easy once you complete your education as there are many different settings where you can work as a personal trainer. If you are looking for a lasting career, becoming a personal trainer is an excellent route since many individuals need help attaining a healthy lifestyle that makes them feel better about themselves.
Additionally, personal training is a career that you love in which it lets you put your creativity to work. There are many different ways to work as a personal trainer, such as one-on-one, group classes, in-home/office, to small group sessions. By changing the different sessions that you offer, you can be more successful by bringing in more clients. Throughout this work with people and speaking with others, you can be considered an expert in which people will want your expertise on talk shows to discuss how you got started as well as how to get in the business of becoming a personal trainer. Networking as a personal trainer can lead to different chances in getting your name out there as a personal trainer when you start talking to other people on helping them and teaching them different ways to stay active/healthy.
For some, the goal is to be your own boss. Therefore, you will make up your own schedule to make it flexible with your lifestyle. With virtual personal training becoming even more popular, you can still help clients even if you can't be there in person.
When working with clients, it's important to be positive in order to increase their likelihood of committing to this lifestyle change. By being positive while coming to work and being around others who are positive will make you enjoy your day to help make a difference when working with clients in a workout. After working with people over a period of time, it will help build relationships that can last a lifetime, which will make your job feel much less like "work". If you feel like you can relate to this, then is sounds like you know you want to become a personal trainer!