There are dozens of exercises that can be done to work out your inner thighs. Here are three that concentrate on the thighs along with two others that provide a twist for a more intensive inner thigh workout. You only need to do a quick Internet search to find plenty of videos online that provide visual instructions on how best to perform them.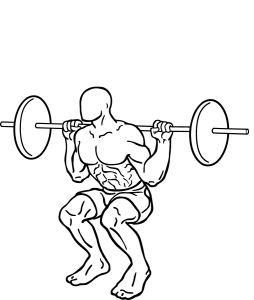 Plyometric Squat
Stand with your feet shoulder-width apart.
Squat down and bend your knees to 90 degrees.
Now, jump up and land softly again in the squat position. Use the strength in your legs and bottom to jump up explosively.
Remember to land as softly as you can with your knees bent; keep your weight back, over your heels. Do three sets of eight reps.
Pick-Up Squat
These are a great front thigh stretch exercise. Remember to keep the proper form and keep your chest fully vertical so as not to stress your lower back.
With a five or eight-pound dumbbell in each hand and your hands by your sides, stand with your feet shoulder-width apart.
While keeping your chest vertical to the ground, bend your knees 90 degrees until the dumbbells reach the ground just outside of your feet.
Stand up and immediately squat down again, picking up the weights at your feet.
Repeat for one minute, alternating lowering the weights and picking them up.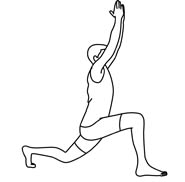 Lunges with Dumbbells
This is a great variation on the above thigh exercise that works the thigh muscles a little harder.
Stand with your feet hip-width apart, holding a five or eight-pound dumbbell in each hand.
Lunge forward with your left leg, and then straighten your leg. When you lunge, your right knee should come to about an inch above the ground without touching it.
Keep your torso perpendicular to the floor, with your weight evenly distributed between your legs. Align your front knee over your front ankle, keeping the weight in your heels instead of on your toes.
Continue these lunges for 30 seconds before switching sides and doing another 30 seconds on the other leg.
Lunges with Dumbbells Part ll
Hold the dumbbells at shoulder height with your palms facing front.
Lunge forward with one leg, then bring your feet back together and lunge forward with the other leg.
Continue lunging on alternate legs for 60 seconds.
After each lunge forward, push through the heel of your forward foot while lifting your back knee in front of you to hip level.
Do a biceps curl, and then step back into a lunge.
Repeat the lunge, plus curl, on one leg for 30 seconds, and then switch legs for another 30 seconds.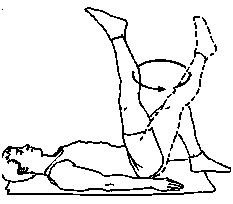 The Single-Leg Circle
This is great for the upper thigh.
Lie back on the mat with your arms by your sides and your palms facing down.
Point with your left foot, as if reaching out with your toes toward the ceiling, and rotate your leg slightly outward.
Inhale, and trace a circle on the ceiling with your left leg, moving your whole leg, but keeping your hips still. Don't lift your left hip off the floor.
Trace the circle on the ceiling five times in a clockwise direction. Repeat in a counter-clockwise direction.
Switch legs and repeat five times.