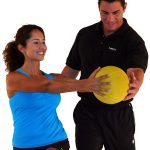 Personal training can be an immensely fulfilling career. Not only does becoming a personal trainer allow you to work out for a living and get in great shape, but it also allows you to help others with their fitness goals, transform their bodies, become healthier, and ultimately feel better. For these reasons and more, the personal training field is seeing a higher than expected job growth between now and 2020.
According to the Bureaus of Labor Statistics, the job growth for fitness trainers and instructors is expected to see a 24 percent rise in employment from 2010 to 2020. This rise is faster than the average employment outlook, which is typically around 14 percent. Why is the outlook higher than average? As businesses and insurance organizations continue to recognize the immense benefits of fitness programs, health programs, etc. for their employees, incentives to join gyms, health clubs, country clubs, local recreation centers, or other fitness facilities will increase as well. And, of course, as these facilities see an increase in members, they will also need more staff to train and assist them. Due to those factors, the personal training and fitness training field should see a steady growth over the next decade.
For those wondering how to become a personal trainer, there are many avenues that you can take. Various goals require different educational and training requirements for fitness trainers and instructors that are dependent upon the type of specialty, such as yoga, Pilates, strength training, etc. Most employers will only hire personal trainers that are certified and have a strong educational background in the field.
Becoming a personal trainer can leave someone with a lot of flexibility for their career path. Do they want to become a one-on-one, in-home personal trainer who travels to clients' homes or do they want to be a personal trainer in a gym, fitness club, country club, at a hospital, a university, or even at yoga or Pilate's studios? You see, just because you have your personal trainer certification, you aren't pigeonholed into one type of job. Really, what it comes down to is what types of opportunities are available in the area you'd like to work geographically, and in what area you'd like to specialize.
If you are wondering how to become a personal trainer and where you should start your search, talk to professionals in the field and start asking questions about what they require from their personal trainers and fitness instructors. You can also visit us at nptifitness.com to learn about our fitness training education and certification programs.