For active people that not only enjoy how staying fit allows them to live fuller lives but also want to help others experience the same thing, there are few careers better than becoming a personal trainer. In fact, this is just one of ten or more good reasons why becoming a personal trainer is a great idea for an increasing number of people.
According to the Bureau of Labor Statistics, employment of fitness trainers and instructors is projected to grow 8 percent from 2014 to 2024 with a median income of $36,160 per year or about $17.39 per hour. Actual salaries may vary greatly based on specialization within the field, location, years of experience and a variety of other factors. Depending on career path, personal trainers can earn in excess of $50,000 per year or more.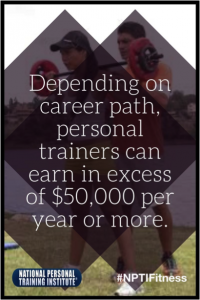 An aging baby boomer population that desires to stay fit and millions of Americans young and old that want to do their own personal part to reduce obesity and health risks are just some of the reasons for the growth of this career path. While a strong need is just one of the many reasons to become a personal trainer, there are other equally important reasons to consider.
Because of the wide variety of work environments, personal trainers have a tremendous amount of choice in their careers. From health clubs, sporting facilities, and corporate gyms to schools, leisure and community centers, nursing homes, hospitals, holiday resorts, cruise ships and beyond, the choices are nearly limitless.
For many personal trainers, the option to become their own boss and run their own business is a prime motivator and reason for choosing a career in personal training. While all of the choices above can be pursued through an employee career track, they can also be opportunities where business owners can thrive and grow.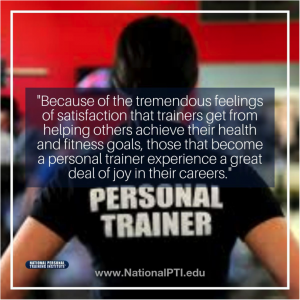 Because of the tremendous feelings of satisfaction that trainers get from helping others achieve their health and fitness goals, those that become a personal trainer experience a great deal of joy in their careers. With many personal trainers saying that the career path blurs the line between work and play, the level of daily and long-term satisfaction is something they feel that they could not find in any other career.