Having a sore throat, achy muscles or a runny nose is enough to make you miserable, but if you still have the energy and motivation to hit the gym, should you? Will "sweating it out" actually work? Or should you instead get some rest? Whether you've got a little case of the sniffles or the full-on flu, it's important to know when it's ok to get a workout in or if you're better off crawling in bed.
Aside from the spreading your germs to everyone else at the gym, what's the real danger of working out when you're sick? Proper gym etiquette is to keep your workout quarantined to your own home. Even if you have a common cold, you're typically contagious for about five full days. Germs can live on hard surfaces like dumbbells for hours. Even if you wash your hand, sweat can carry mucus particles onto the equipment. So instead of spreading your germs, avoid the gym and workout at home.
You Have a Cold
Exercising with a common cold is usually safe to do as long as you listen to your body. A runny nose is no reason to skip a workout. However, you should reduce the intensity and length of your workout. Overworking yourself when you have a cold can make you feel worse, and as a result slow down your recovery. Instead of going for a run, take it easy and go for a walk. Treat it like a day of active rest. Staying active with mild cold symptoms can promote your immune function, helping you feel better.
You Have a Fever, Stomach Bug or the Flu
Skip the gym, take medicine and stay in bed. Exercising with a fever can make your health way worse. Fevers and vomiting can easily cause dehydration, which can be heightened by a workout. Instead, rest until your fever has been gone for a full 24 hours.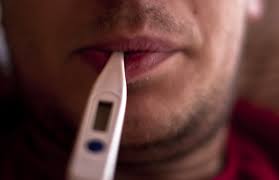 The good news is fit people tend to recover quicker from illness and experience milder symptom than those who aren't active. Strengthening your immune system and making healthy choices can protect you from getting sick. If you do however feel under the weather remember it's important to listen to your body!
Source: http://bjsm.bmj.com/content/45/12/987