Are you considering getting your personal trainer certification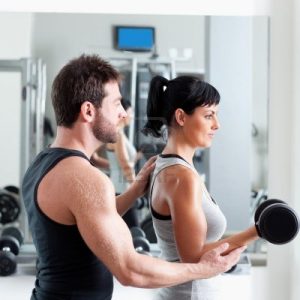 and want to know what is ahead for your career? The best part of the fitness industry is that there are virtually limitless job options when you have your personal trainer certification. The most important criteria you will want to consider is which arena best suits your talents and your interests. Below we are going to touch on just a few of the possible careers you can enter with a personal trainer certification.
Group Exercise
One of the most popular ways to enter the fitness field is by teaching group exercise classes. This field is less competitive and offers an abundance of opportunities in several settings.
What does teaching group exercise classes entail? Typically, you'll be teaching non-choreographed athletic-style workouts, indoor cycling, muscle conditioning, or even pre-choreographed classes. One of the advantages to becoming a group exercise instructor is that it allows you to promote yourself, as well as your skills, to a large group of fitness consumers, and in doing that, it is a viable way to make a name for yourself in the industry. It also allows you to develop leadership skills and figure out which types of exercise you find most enjoyable should you ever expand or change your fitness career path.
Personal Training
When it comes to being a fitness instructor, the personal training field is one of the most viable and diverse options. That being said, it is also competitive and requires the right credentials and experience. Where can you get hired as a personal trainer? You can choose to work for a gym, training its members. You can also work as a self-employed independent contractor. Typically you'll work with clients to help them make and attain their custom fitness goals.
Specialized Fitness Training
You may want to choose to work in a specialized discipline of fitness. These include areas such as yoga, Pilates, aerobics, dance, and other similar disciplines. For these kinds of careers, fitness instructors typically need additional training, which are usually taught at local gyms or private facilities.
Nutrition and Dietetics
When you are going to school for your health and fitness, generally you will take many nutrition classes, as well. Nutrition and personal training educations tend to overlap, which can allow graduates the option of choosing either as a viable field to work in. As a nutritionist or dietician, you would work in a medical setting, such as a hospital or doctor's office and would advise patients on healthy eating habits. You can also design custom meals plans for patients and also supervise food preparation for the hospital or a nursing home.
Fitness Programming and Management
Deciding to enter the fitness programming field will allow you to learn a bevy of new industry-related skills. You'll have the opportunity to head a personal training department, or related department to mix up time spent with clients and time spent developing new programs and initiatives.
As you can see, these are only a handful of careers available once you have your personal trainer certification. There are many more avenues you can choose to take, but what it comes down to is this: do what makes the most sense for you and caters to your passions and talents.